The Board
Executive Directors
Professor Gillian Leng CBE
Chief Executive
Gillian is the Chief Executive at NICE and a visiting professor at King's College London. Gillian trained in medicine at Leeds, and then spent several years researching the epidemiology of peripheral vascular disease at Edinburgh University. She was involved in the Cochrane Collaboration as it first became established, and still contributes as an editor to the EPOC Group (Effective Practice and Organisation of Care). She specialised in public health medicine and worked as a consultant before moving to NICE in 2001. At NICE, Gillian has been responsible for the initial set up and running of the clinical guidelines programme, for establishing the NICE implementation function, and for setting up NHS Evidence. More recently she has been responsible for the transfer of the National Prescribing Centre into NICE, for establishing the NICE accreditation programme, and for new work on quality standards across health and social care.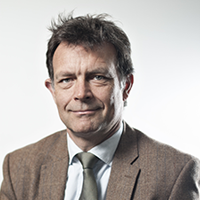 Meindert Boysen
Deputy Chief Executive and Director of the Centre for Health Technology Evaluation
Meindert is the Deputy Chief Executive and Director of the Centre for Health Technology Evaluation. After qualifying as a pharmacist, he worked in a hospital in the Netherlands, and held positions in health outcomes and sales in the pharmaceutical industry.
Meindert completed an MSc in Health Policy Planning and Financing at The London School of Hygiene and Tropical Medicine and the London School of Economics and Political Sciences and briefly worked for the King's Fund before starting at NICE in 2004. Meindert is currently on the board of directors for ISPOR (The International Society for Pharmacoeconomics and Outcomes Research), 2017 to 2020.
Dr Paul Chrisp
Director of the Centre for Guidelines
Paul has been with NICE since March 2009, where he was responsible for setting up our accreditation programme for guideline developers. More recently, he was programme director of the Medicines and Technologies Programme.
Before joining NICE, Paul spent over 20 years in international medical publishing and communications, focusing on evidence to aid healthcare decision making and the adoption of new medicines. Paul trained as a pharmacist and is a member of the Royal Pharmaceutical Society.
Alexia Tonnel
Director of Evidence Resources
Alexia is responsible for the delivery of NICE Evidence Resources and the UK PharmaScan service. She leads the information management and technology, user research and information services resources of NICE.
Alexia studied business and management in France after which she completed a Master of Science in International Accounting and Finance at the London School of Economics and Political Science.
Before joining NICE, Alexia was a director with Deloitte where she advised a range of clients in the healthcare and life science industries on policy and strategy development as well as programme implementation.

Catherine Wilkinson
Acting Director of Business Planning and Resources
Catherine joined NICE in 2007. As acting director of business planning and resources, Catherine is responsible for NICE's business planning process and corporate services including finance, human resources, corporate governance and estates and facilities.
Catherine graduated from the University of Salford with a degree in quality. She trained as an accountant on the NHS graduate financial management scheme and is a member of the Chartered Institute of Public Finance and Accountancy (CIPFA). Before joining NICE Catherine worked in finance in the NHS.
Catherine is also trustee and treasurer for AgeUK Lancashire.


Directors

Jane Gizbert
Director of Communications
Jane joined NICE in 2008 and is responsible for the delivery of our strategic communications. Jane graduated from the University of New Brunswick in Canada with a BA Honours degree in political science. She subsequently obtained an MA and completed a graduate journalism programme at Carleton University in Ottawa.
Immediately before joining NICE, Jane was head of corporate communications at the Medical Research Council, the UK's largest publicly funded medical research organisation. Her remit covered the full spectrum of corporate communications, from strategic development, public involvement and consultation, to media relations and brand management.
Jane has worked extensively in the political field in Canada, including as press secretary for the official opposition and former prime minister of Canada, and as director of communications, Canadian Federation of Labour. Jane has also held senior positions in charitable organisations including the Scout Association and the International Planned Parenthood Federation.

Judith Richardson
Acting Director of Health and Social Care
Biography is to follow.
Non-executive directors

Sharmila Nebhrajani
Chair
Biography is to follow.

Tim Irish
Vice Chair
Tim has worked in the life sciences industry for 30 years. His career has spanned global health technology companies across Europe and North America, including GSK, GE and Philips. Between 2007 and 2015 he served on 10 boards, 5 as chair, where he successfully executed 2 trade sales and raised significant equity financing, including an IPO.
Tim's current governance portfolio covers life sciences and healthcare, both public and private, including his board role at NICE, various European medtech supervisory board roles, and professor of practice at King's College London's School of Management and Business.
Professor Martin R Cowie
Martin is professor of cardiology at Imperial College and an honorary consultant cardiologist at the Royal Brompton and Harefield NHS Foundation Trust. Since 2003 he has been a clinical advisor for NICE on our acute and chronic heart failure guidelines, quality standards, commissioning guides, patient decision aids, and technology appraisals. In 2012 he became a NICE speciality advisor for cardiovascular interventions.
His major clinical and research interests are in health technology assessment and the delivery of efficient and effective care for patients with heart failure, focusing on new technologies: diagnostics, drugs or devices.

Elaine Inglesby-Burke CBE
Elaine has been a registered nurse since 1980. Her previous roles include being a nurse specialist manager at St Helens and Knowsley Hospital Trust and Director of Nursing at The Walton Centre in Liverpool. Elaine is currently chief nursing officer for the Northern Care Alliance NHS Group (which comprises Salford Royal NHS Foundation Trust and Pennine Acute NHS Trust). She is also a trustee for the Willowbrook Hospice in St Helens.
Elaine has also played a significant role in national health campaigns, having been a member of the Prime Minister's Nursing and Care Quality Forum. She was also involved with the Berwick National Advisory Group on the Safety of Patients in England, which is a group of healthcare experts that was set up to examine patient safety issues in the NHS. Elaine was awarded a CBE for her services to nursing.

Dr Rima Makarem
Rima holds a portfolio of non-executive directorships in health and central government. She is currently external commissioner and audit chair at the House of Commons Commission and a lay member of the General Pharmaceutical Council. Rima's background is in the private sector, with past careers in the pharmaceutical industry and management consultancy.
Rima is chair of our audit and risk committee and is our senior independent director.
Tom Wright CBE
Tom is Chief Executive of Guide Dogs for the Blind. He is also chair of Leeds Castle Enterprises, a trustee of Leeds Castle Foundation and chair of the Imperial War Museum Development Trust. He was previously CEO of Age UK and Age International, dedicated to helping everyone make the most of later life. He was also chair of the Richmond Group of 14 leading health charities working together as a collective voice to better influence health and social care for the 15 million people living with long term conditions.
Tom has extensive experience in the health and social care sector with a particular expertise in ageing and age related research. This includes being a founder member of the Global Council on Brain Health and developing integrated health and social care pathways.